DIPTYK - NEWS
1-54 Marrakech: What to collect
By Marie Moignard and Emmanuelle Outtier POSTED 22 February 2019
Translated from French using Google Translate
1-54 Marrakech is an opportunity to (re) discover the diversity of contemporary African creation. Diptyk offers you our selection.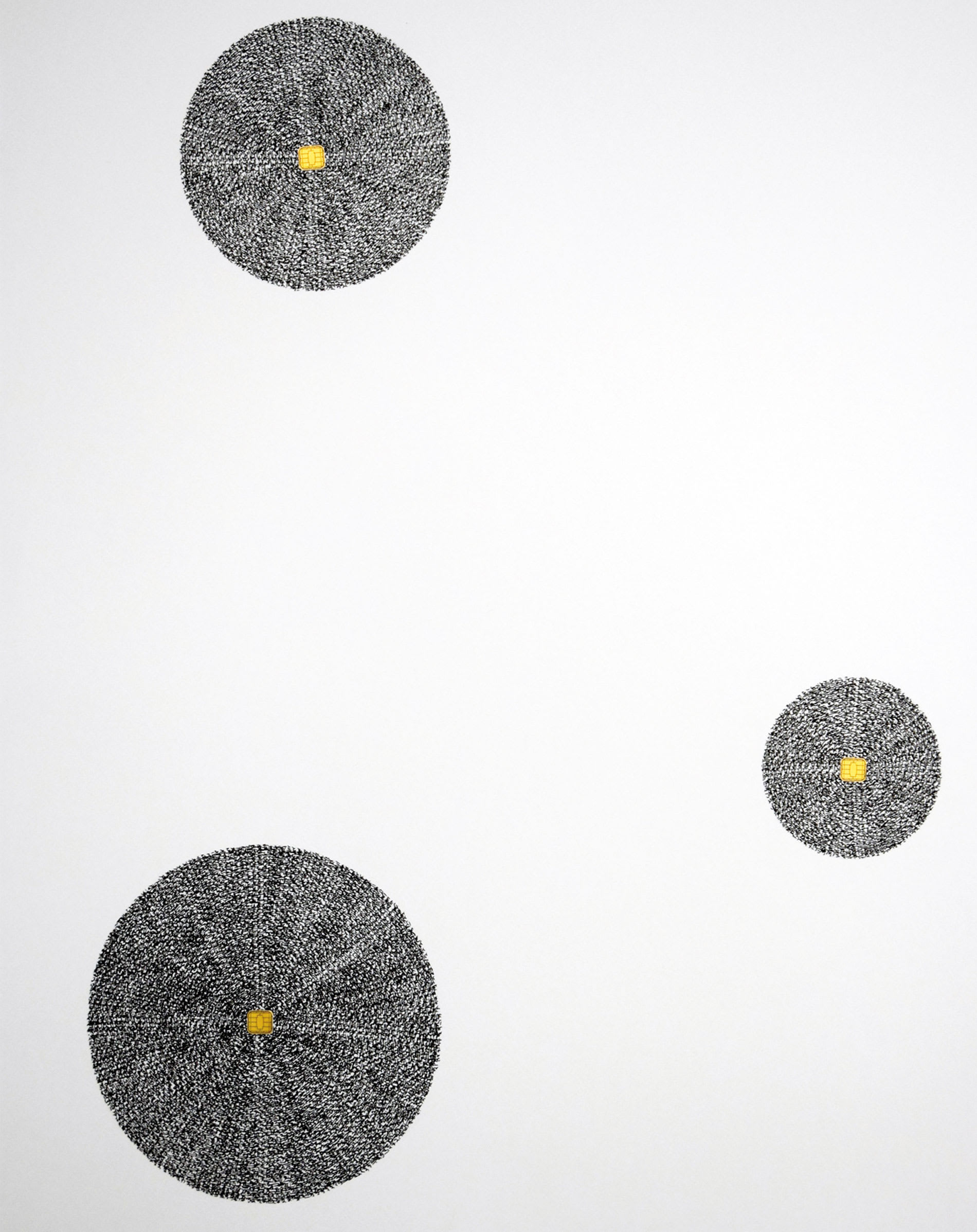 Farah Khelil, IQRA, 2018, Ink and microchip on paper, 80 x 60 cm
3,500 euros
FARAH KHELIL
From science to art
Installed between Tunis and Paris, this 38-year-old artist holds a doctorate in Art and Science that permeates her reflection on words and images, reality and fiction. Fascinated by the narrative power of new technologies, she bridges the gap between Western and Arab-Muslim culture in a work combining drawing, collage and installation. Exhibitor regularly in Tunisia and internationally, she participated in "What the sound does visually" at the Château de Servières in Marseille (2013) and at the "Pavillon de l'Exil - Escale 03" in Saint-Louis of Senegal (2018).
(Officine dell 'Immagine)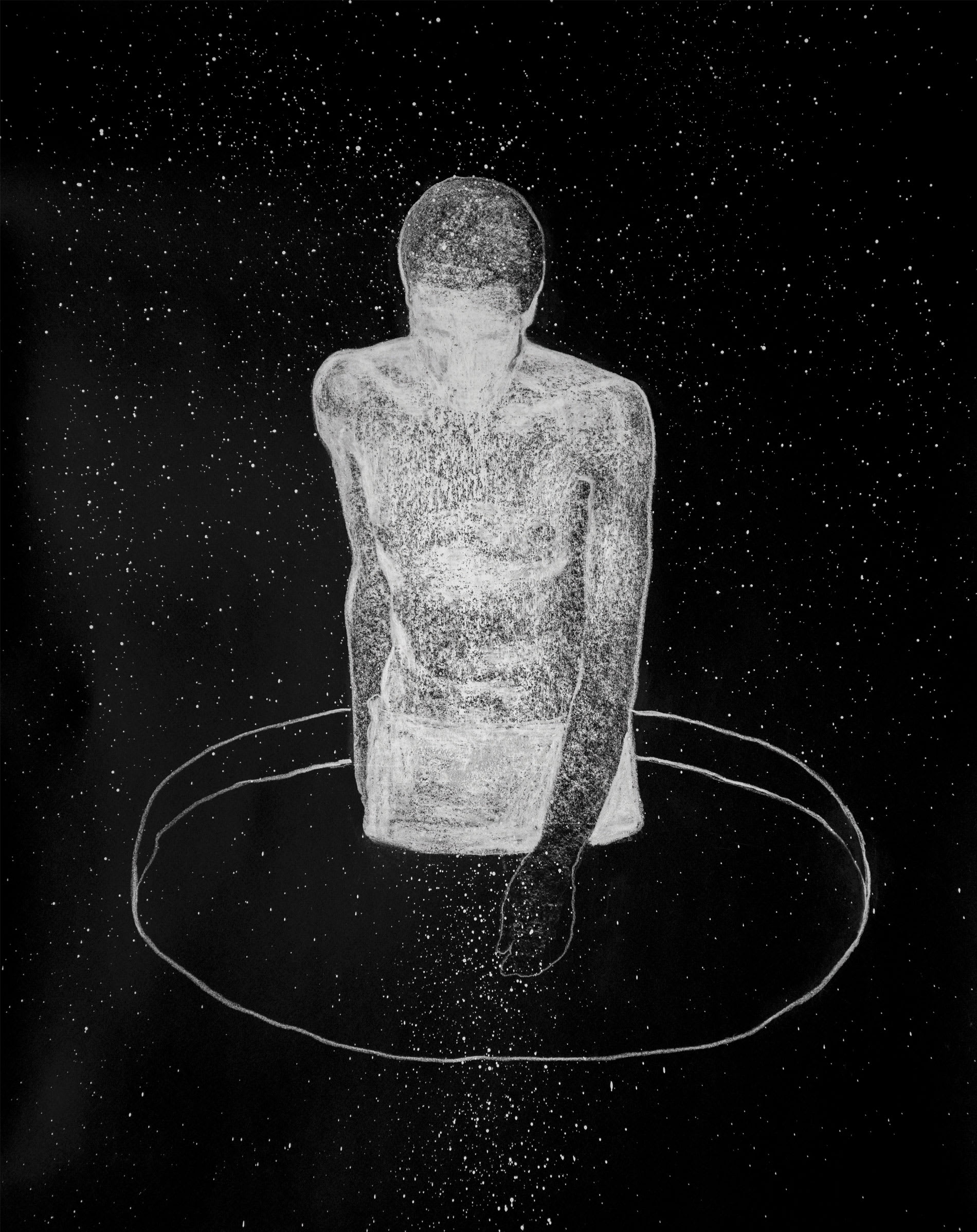 Nabil El Makhloufi, Pearl Diver, 2018- 2019, white pencil on paper, 97 x 70 cm
4,200 euros
NABIL EL MAKHLOUFI
Between Western influence and Sufism
Trained at the Leipzig School, the painter Nabil El Makhloufi is one of the spearheads of the Moroccan diaspora. Based in Germany, he exhibits in Frankfurt, Casablanca, London, Dakar and Beirut. In his symbolist compositions with a subtle blend of cold and ocher tonalities, or in his recent works on paper, he transposes the reality of the societies of the "south" by exploring the relationship between bodies and objects, in a universe devoid of horizon and of landmarks that evokes the depth of the cosmos, the impalpable depth of a dream.
(Workshop 21)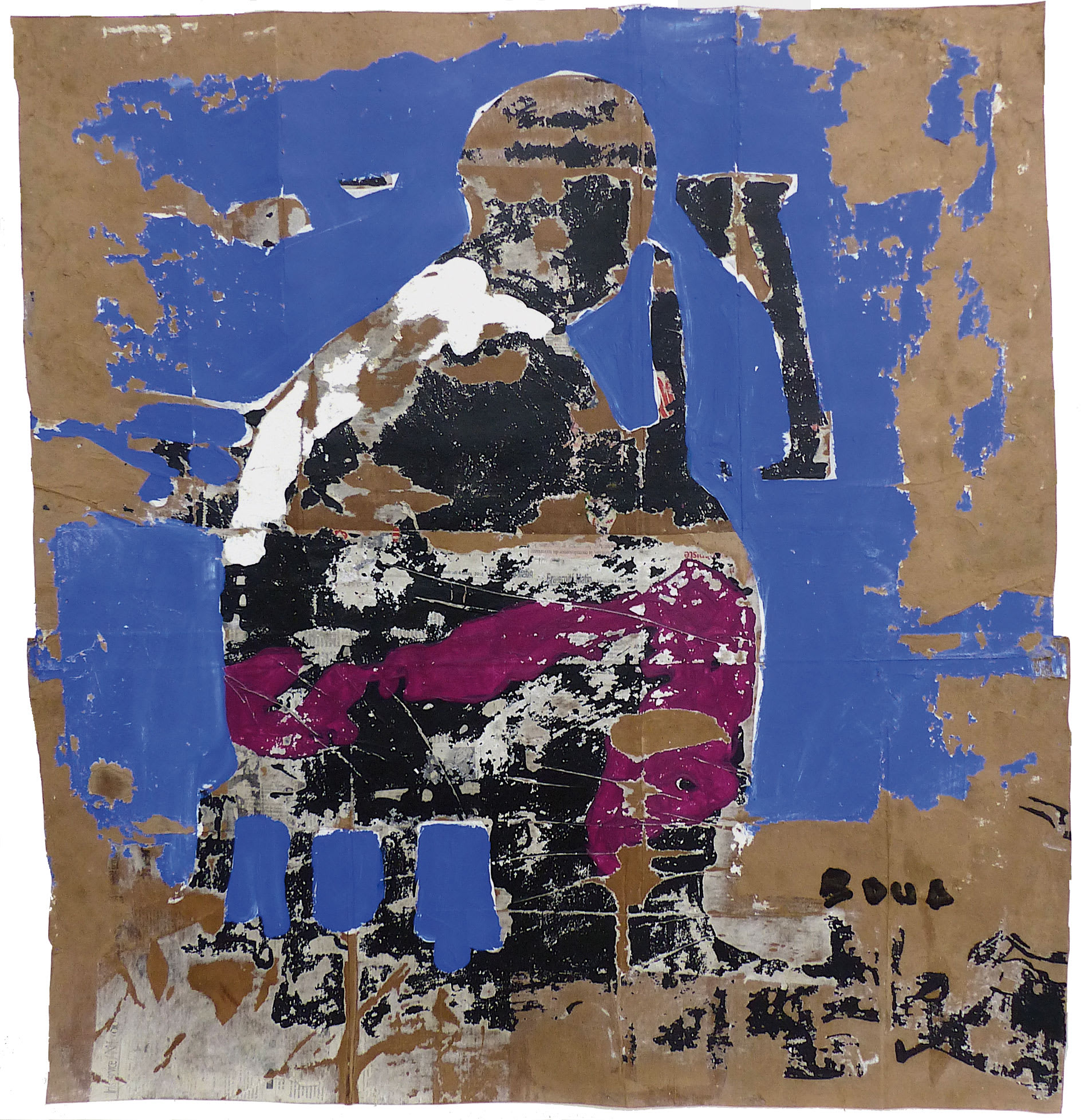 Armand Boua, series Brobrosseurs # 7, 2018, mixed media, 101 x 94 cm
5,000 euros
ARMAND BOUA
Urban Chronicles
Armand Boua makes the streets of Abidjan his exploration ground and children who populate his main characters. In the manner of a palimpsest, his plastic work brings out the silhouettes of the "brobrosseurs", precarious workers of the Ivorian economic capital. Boua sticks and paints paper, cardboard, recovered materials, to better wash them and brush them, composing according to residues his urban chronicles. A rendering that recalls the lacerated posters of Jacques Villeglé. In 2010, he participated in the 9th edition of the Dakar Biennial. His works are present in several international collections, including the Saatchi collection in the United Kingdom.
(Cécile Fakhoury Gallery)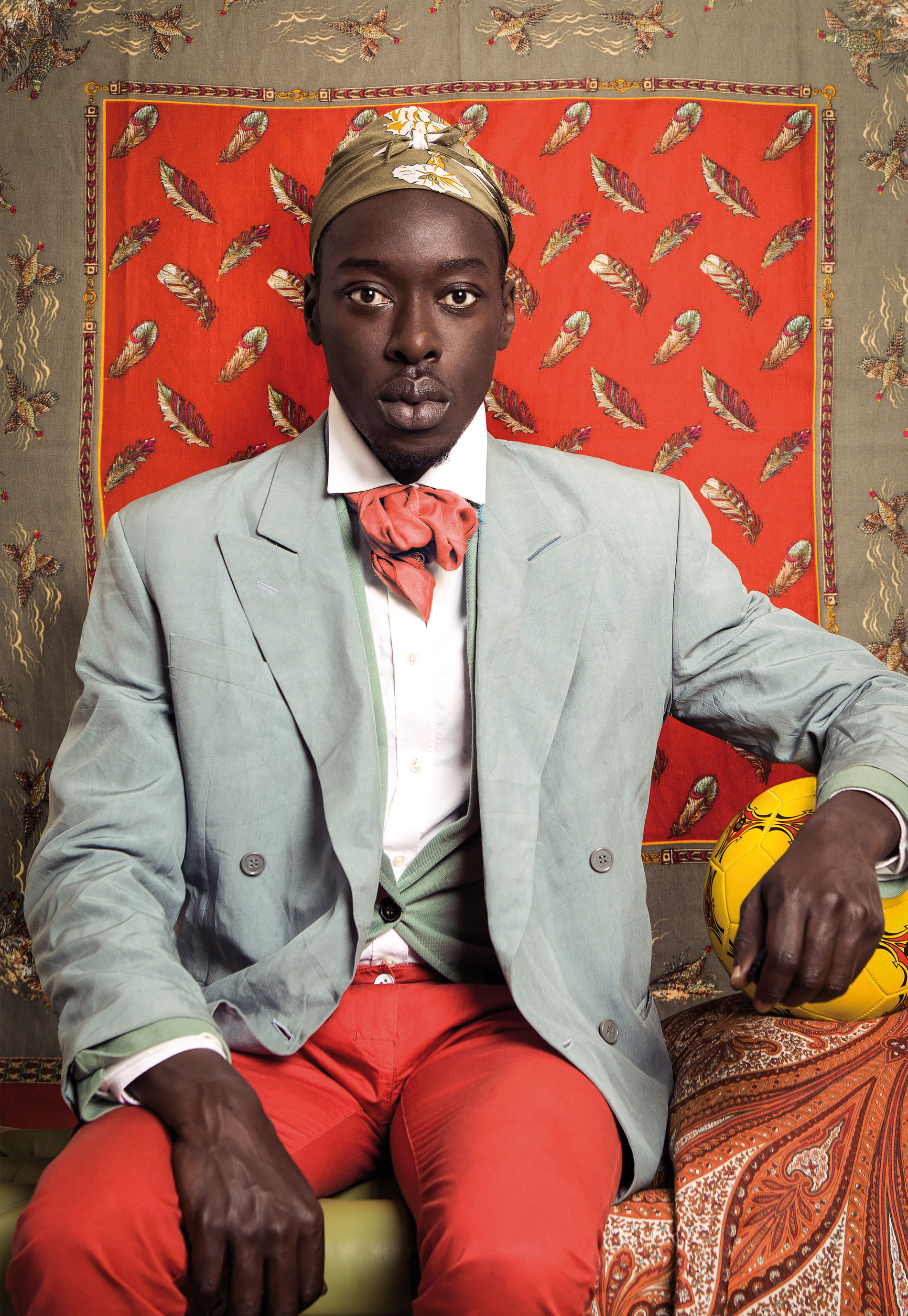 Omar Victor Diop, Omar Ibn Said, 2015, Diaspora Series, pigment inkjet printing on Harman By Hahnemuhle paper, 40 x 60 cm
4,000 - 8,000 euros
OMAR VICTOR DIOP
Official Portraits
In the series Diaspora, Omar Victor Diop is staged in a set of highly controlled self-portraits. Incarnating in turn Omar Ibn Saïd, Senegalese theologian deported in 1807 in the United States, or Don Miguel De Castro, Congolese ambassador of the seventeenth century, Diop hands over to the center several African personalities who played an illustrious role outside their home continent . A work to better question the place of Africa in world history. Diop has participated in the exhibitions "Making Africa, A Continent of Contemporary Design" (2015-2019), "Afropolitan Festival", BOZAR, Brussels (2017), "Art / Africa: the new workshop", Louis Vuitton Foundation, Paris ( 2017).
(MAGNIN-A)
Athi-Patra Ruga, ... A Vigil for Mayibuye, The Exile series, 2015, inkjet print, 150 x 190 cm
8,500 euros
ATHI-PATRA RUGA
Identity at liberty
At the edge of fashion, contemporary art and performance, the work of South African Athi-Patra Ruga has become the port of a multicultural and uninhibited Africa. In his colorful stagings, he deploys a new approach to African identity beyond historical, political or societal shackles. In addition to his highly acclaimed solo exhibition at Somerset House during the last edition of 1-54 London (2018), Athi-Patra Ruga has exhibited at the Louis Vuitton Foundation (2017) and at the South African Pavilion of the 56th Venice Biennale (2015).
(In situ-fabienne leclerc)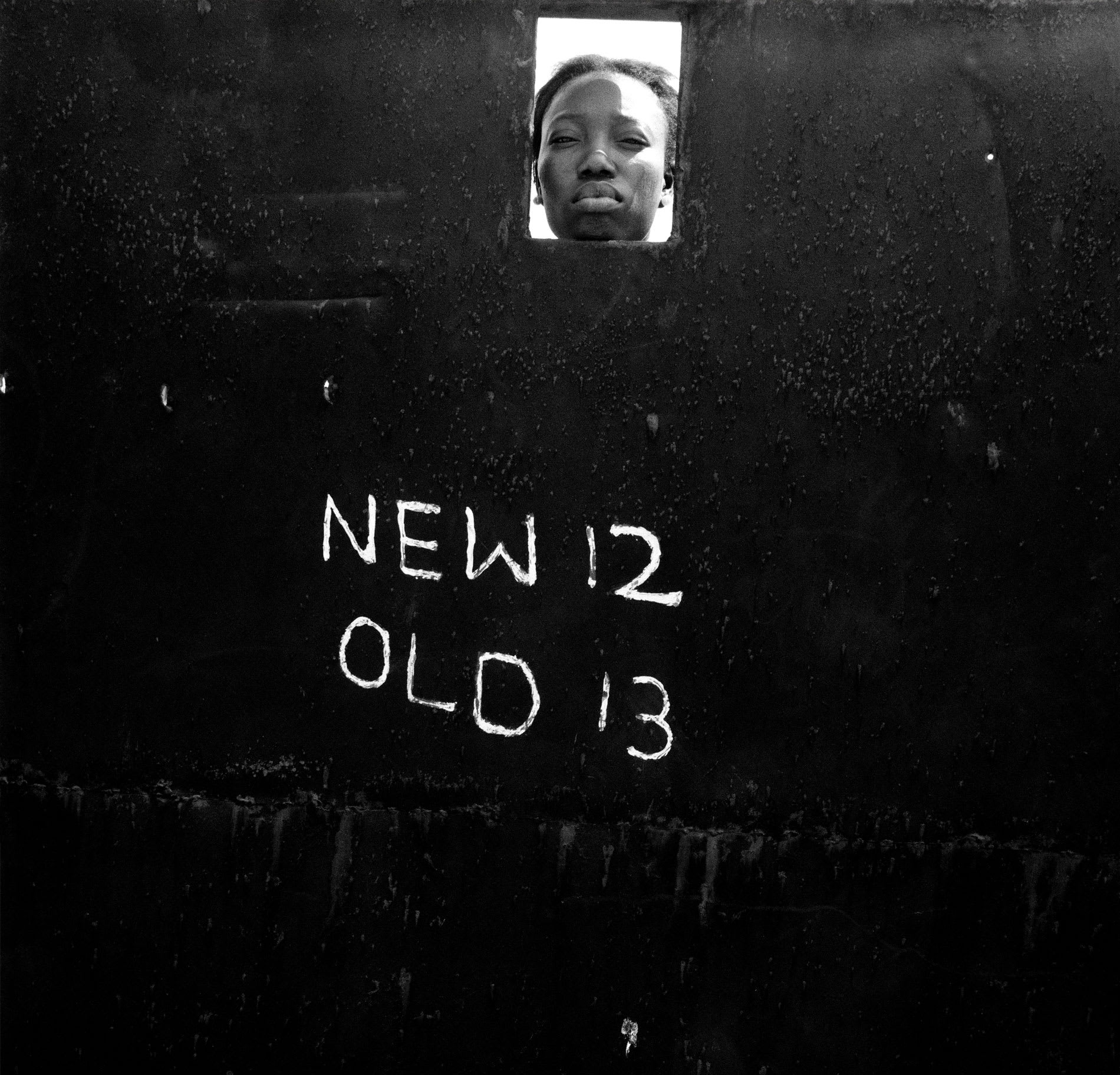 Uche Okpa Iroha, New & Old, 2011, 100 x 100 cm
€ 5,700
UCHE OKPA-IROHA
Decentering the look
Okpa-Iroha's work examines the margins. The Nigerian photographer made a great move with his memorable series The Plantation Boy in which, by a subtle game of photomontage, he was invited into the scenes of the Godfather of Francis Ford Coppola. Okpa-Iroha denounced with humor the absence of black figures in the mainstream culture. The Plantation Boy will earn him, for the second time, the prestigious Grand Prix of the Rencontres Photographiques de Bamako (2015). In The Isolated Series, he tracks down the informal messages that are emerging in the city of Lagos, a sign of the emergence of a new urban language.
(Retro Africa)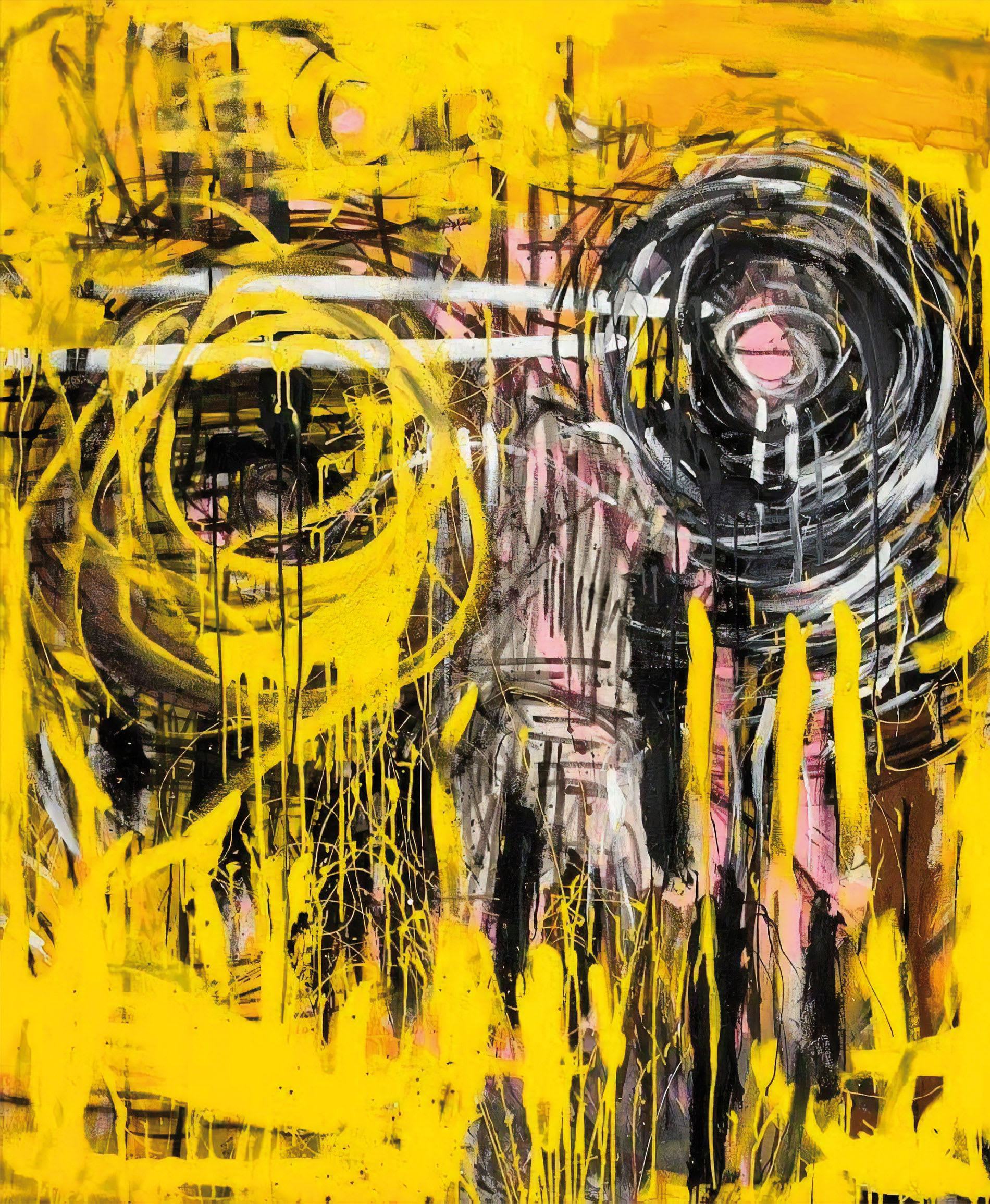 Oba Adetomiwa A. Gbadebo, Orangun, 2015-2019, acrylic, ink, latex paint, owo eyo, stone, graphite, pastel, 183 cm x 152 cm
9,000 - 22,000 euros
ÓMÒ OBA ADETOMIWA A.GBADEBO
Cosmology of forms
The gesture is eruptive at Ómò Oba Adetomiwa A. Gbadebo. Some see a filiation with Jean-Michel Basquiat. Yet the works of this Nigerian artist are inspired by the Yoruba and Ifa philosophy, of which he is an heir. The result is a pictorial universe populated by mysterious signs and cosmic forms. He exhibited last year in New York.
(Retro Africa)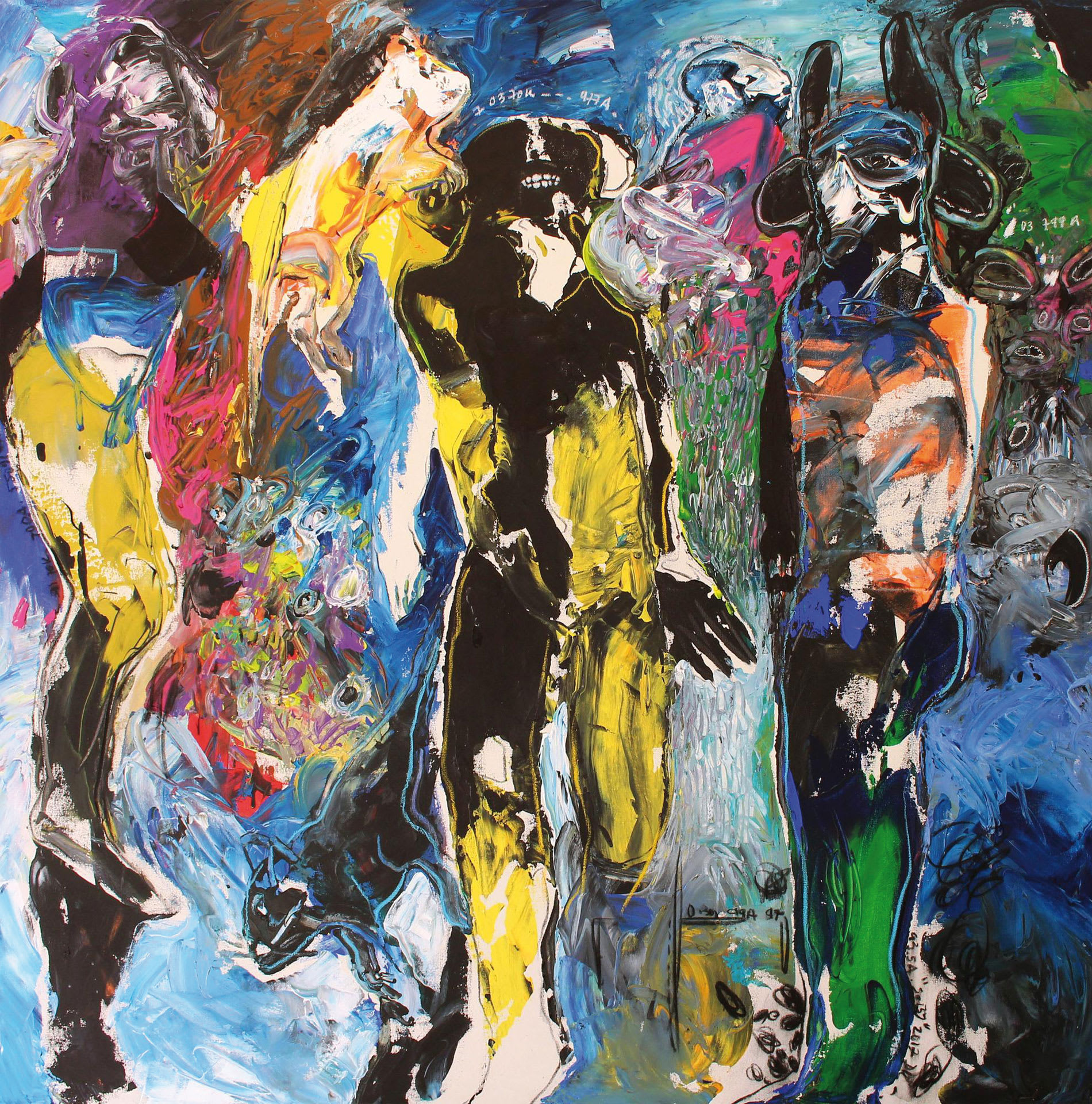 Soly Cissé, The Fugitive, 2017, acrylic and pastel oil on canvas, 150 x 150 x 5 cm
10,000 euros
SOLY CISSÉ
Mythology of strangeness
Singular anthropomorphic creatures haunt the work of Soly Cissé. Trained at the Beaux-Arts in Dakar, the artist quickly freed himself from all academicism and developed a plastic language in which color and material effects reign supreme. His expressionist gesture brings out of the canvas hybrid beings straight out of an unusual and personal mythology. Cissé exhibits regularly abroad. In 2005, he participated in the exhibition "Africa Remix" curated by Simon Njami. Recently, his installation Cotton field presented off the Biennial Dakar 2018 was welcomed by critics.
(Sulger-Buel Gallery)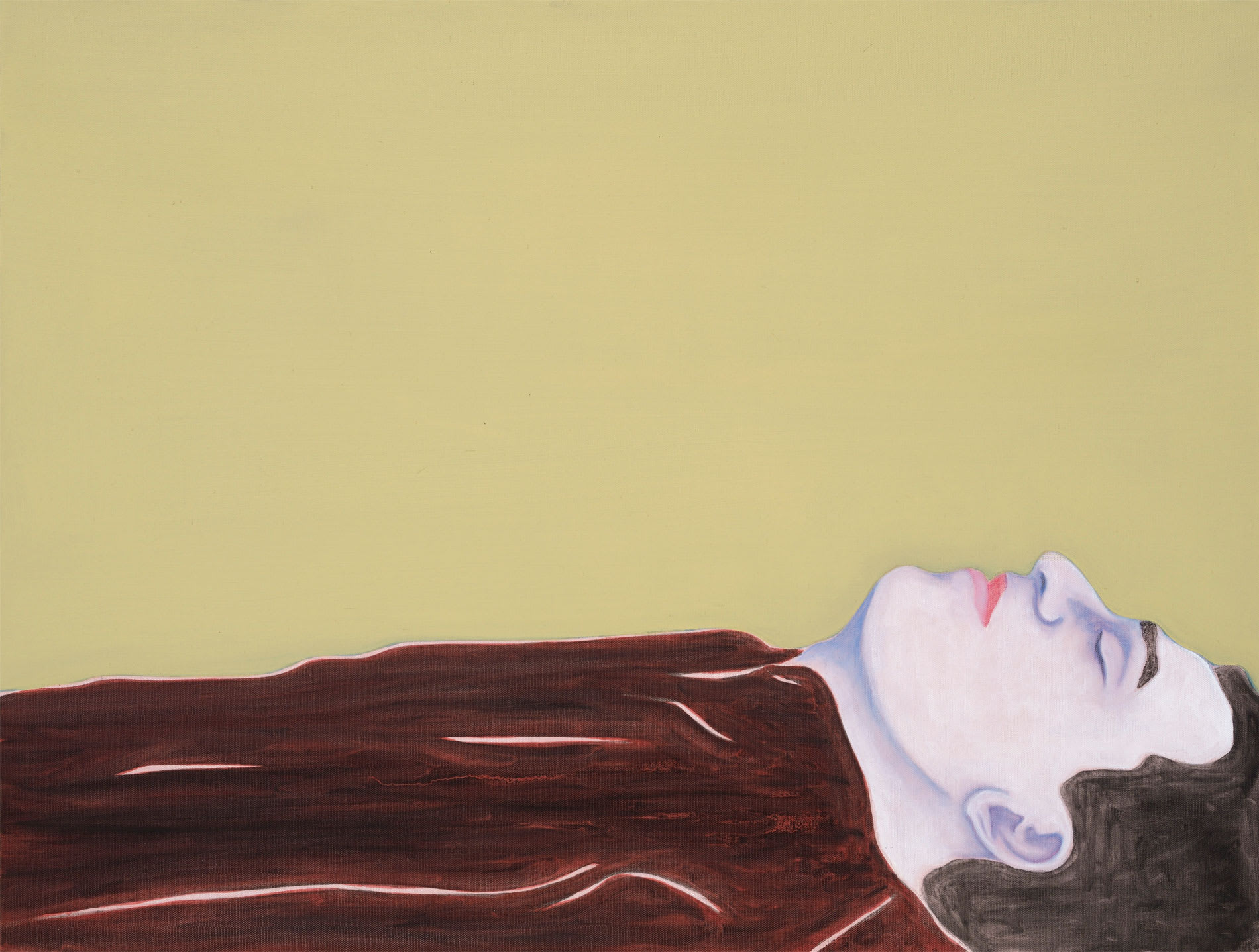 Djamel Tatah, Untitled, 2016, oil and wax on canvas, 60 x 80
17,000 euros
DJAMEL TATAH
The unbearable lightness of being
Djamel Tatah's painting is often called silent. His solitary characters are lost in the clean space of the canvas, reduced to a flat monochrome or two-color. The contemporary man of Tatah is inhabited by the emptiness of existence. The Franco-Algerian artist has several exhibitions in Europe and the Middle East (Center Georges Pompidou, Maeght Foundation, Arab World Institute, Barjeel Art Foundation ...). In 2018, the Lambert collection in Avignon devoted an important solo show to him.
(Poggi Gallery)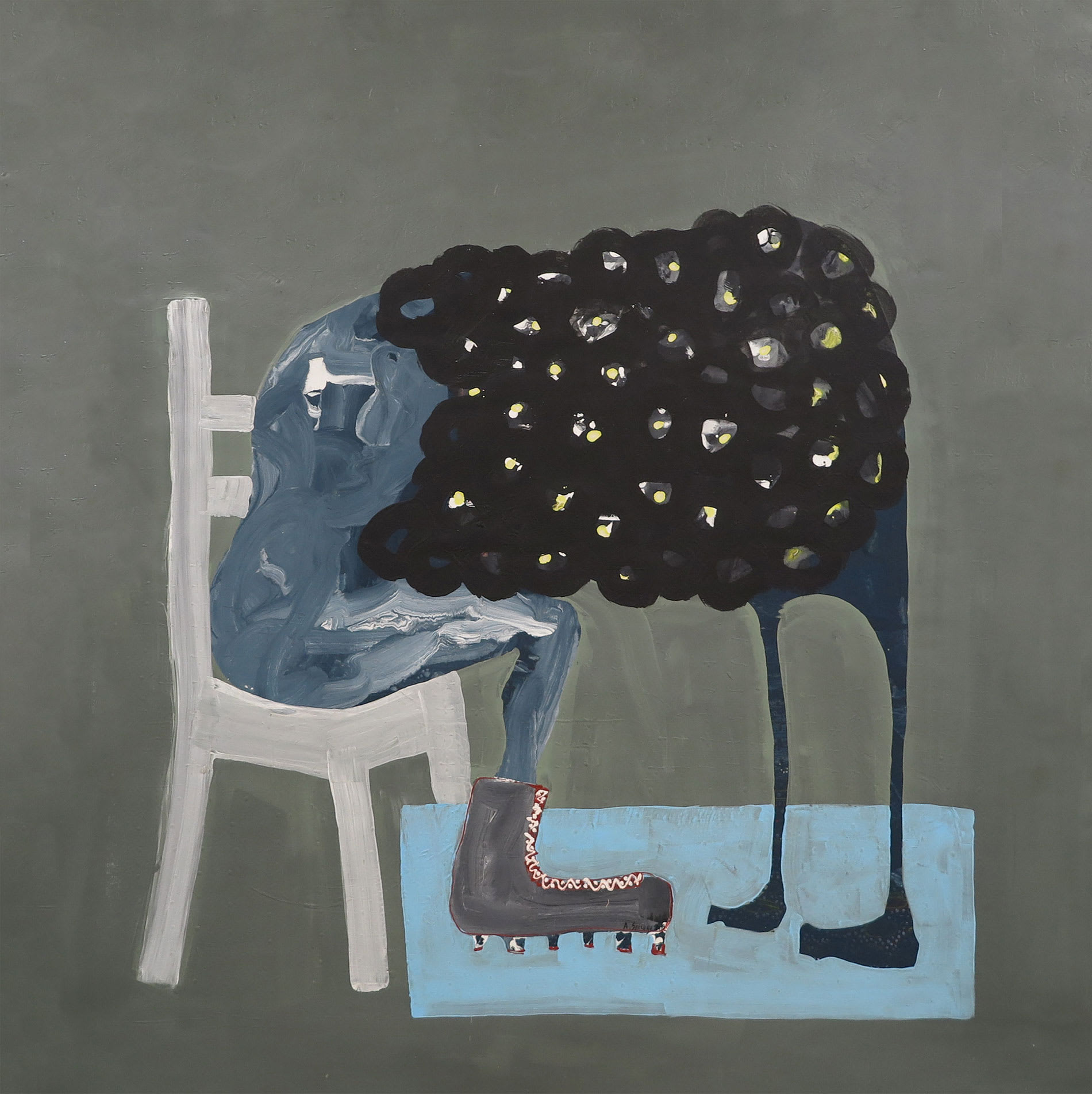 Amadou Sanogo, Untitled, 2018, acrylic on canvas, 168 x 172 cm (excluding frame)
17,000 euros
AMADOU SANOGO
Man without head
Amadou Sanogo is one of the most promising Malian artists. In his canvases with large areas of color, the characters sometimes in a hint contrast with the artist's palette, creating an ambiguous feeling. A latent concern, a symbol of uneasiness in the face of identity injunctions and the political unrest that dazzle the Malian news. Sanogo exhibits in Europe and Africa. His work is regularly presented in international fairs such as FIAC (2014/2015), Art Geneva (2015), Untitled Miami Beach (2016) or Art Paris Art Fair (2013/2017).
(MAGNIN-A)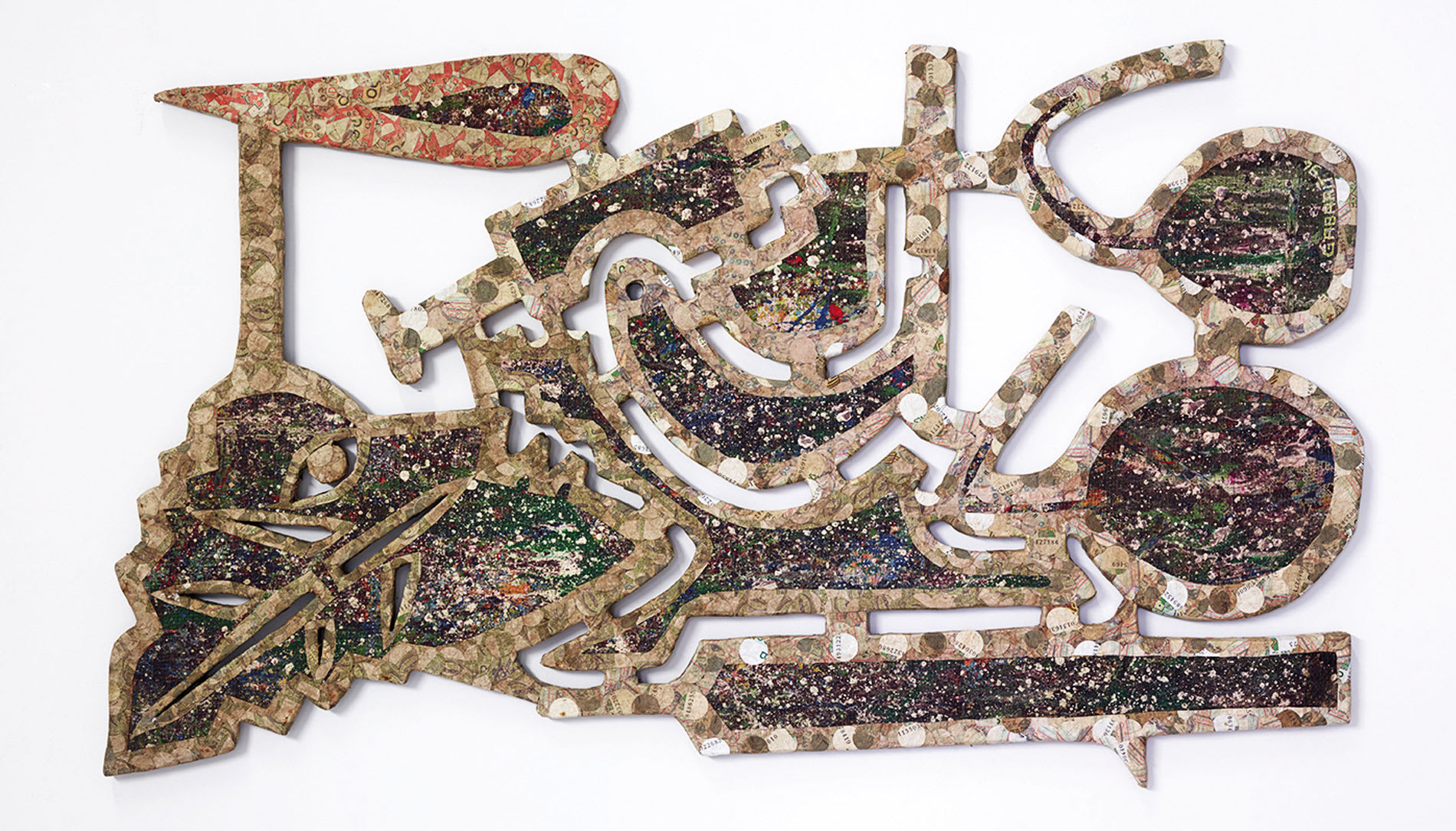 Meschac Gaba, Painting Sculpture: Medicine, 1994, painting, collage of confetti of banknotes CFA on wood
EUR 23,000
MESCHAC GABA
The destiny of African art
Born in 1961 in Benin, Meschac Gaba is one of the most innovative artists of his generation. Trained at the Rijksakademie (Netherlands), his protean works use painting, sculpture, installation, recycled objects as well as braided hair. Its centerpiece Museum of Contemporary African Art (1997-2001) is a nomadic and evolving concept exhibited throughout the world, where the artist reflects on the perception of African art, the role of the museum and the viewer. Presented in 2002 at Documenta 11 in Kassel, it was reactivated at Tate Modern in 2013.
(In situ-fabienne leclerc)
To view the original article on the DIPTYK website please click here
February 22, 2019