DIPTYK - NEWS - ART MARKET
Contemporary African Art: A Brief History of a Future Market
By Emmanuelle Outtier POSTED 25 July 2019
Translated from French using Google Translate
Twenty years after the sale of part of the Pigozzi collection, a look back at the evocative evolution of contemporary African art whose valorization goes through Paris, London and New York.
If we had to remember a single date marking the start of the contemporary African art market, it would probably be the one of June 24, 1999. That day, Sotheby's organizes in London the session "Contemporary African art from the Jean Pigozzi collection ». We no longer present this collection patiently constituted by the Paris gallery owner André Magnin who bought, on behalf of the heir to Simca, tens of thousands of works while furrowing Africa during twenty years. The 1999 dispersion marks a turning point not only because it is the first major sale organized by a leading company in the international art market, but also because it is a remarkable achievement. The price of the works is then low (not exceeding $ 18,000) and almost all are sold (2% unsold only), a rare phenomenon that can be explained both by the pedigree "Pigozzi" and by the purpose of this sale, the proceeds of which are shared between Unicef ​​and the endowment of the Jean Pigozzi Prize for Contemporary African Art.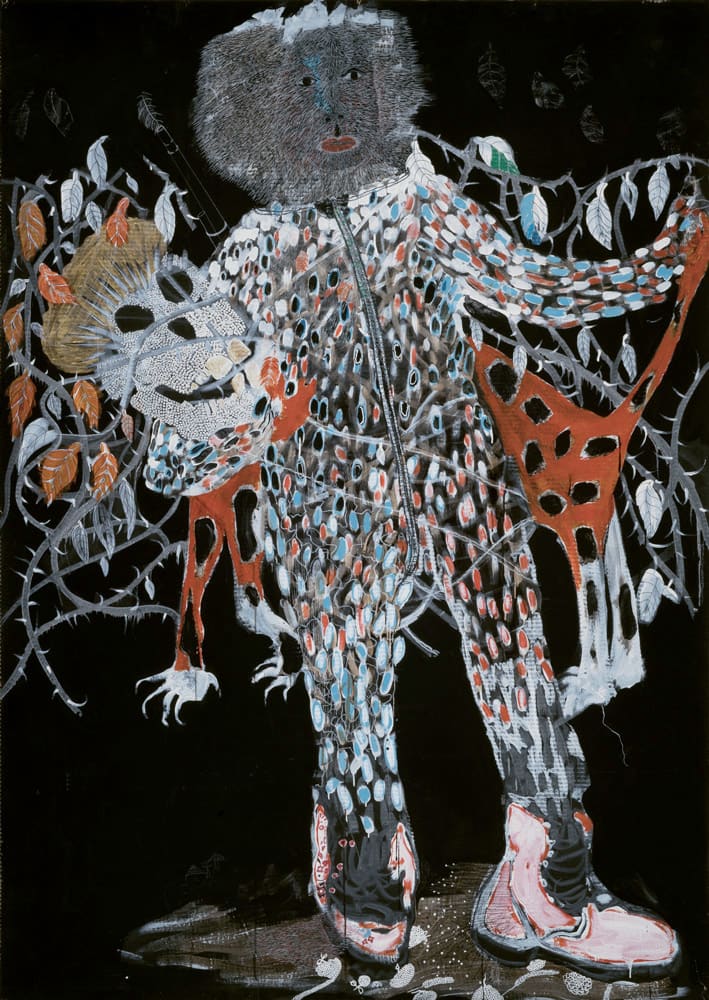 Omar Ba, Untitled, oil on cardboard, 210.3 x 149.7cm © Sotheby's
Much less unsold
Twenty years later, the proceeds of a Sotheby's African art sale have been multiplied by ten ... The $ 328,000 overall result of the dispersion Pigozzi were swept away by the $ 3 million made at the "Modern & Modern" sale. Contemporary African Art " from last April, for a similar number of lots. The demand exploded, as did the artists' rating and the proceeds of its specialized sales. But before reaching this point, the auction houses' journey was not easy. Between surges of optimism and staggering disappointments, it was necessary to go through a few chaotic years before the African art market imposed its growth.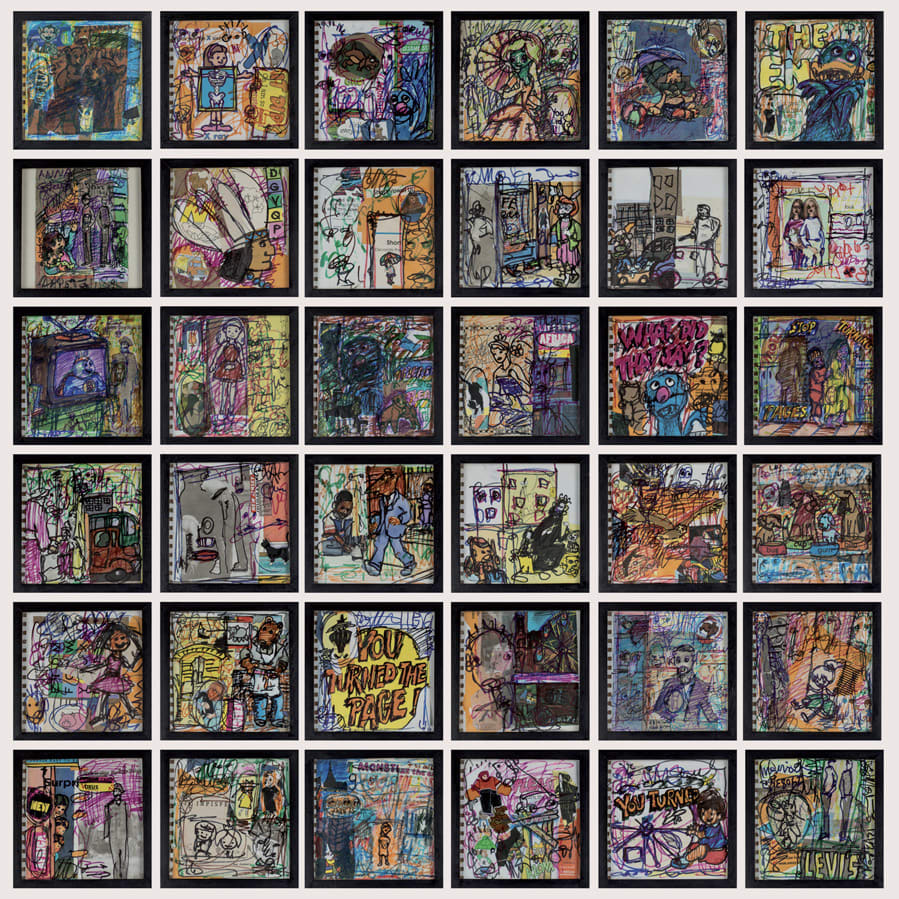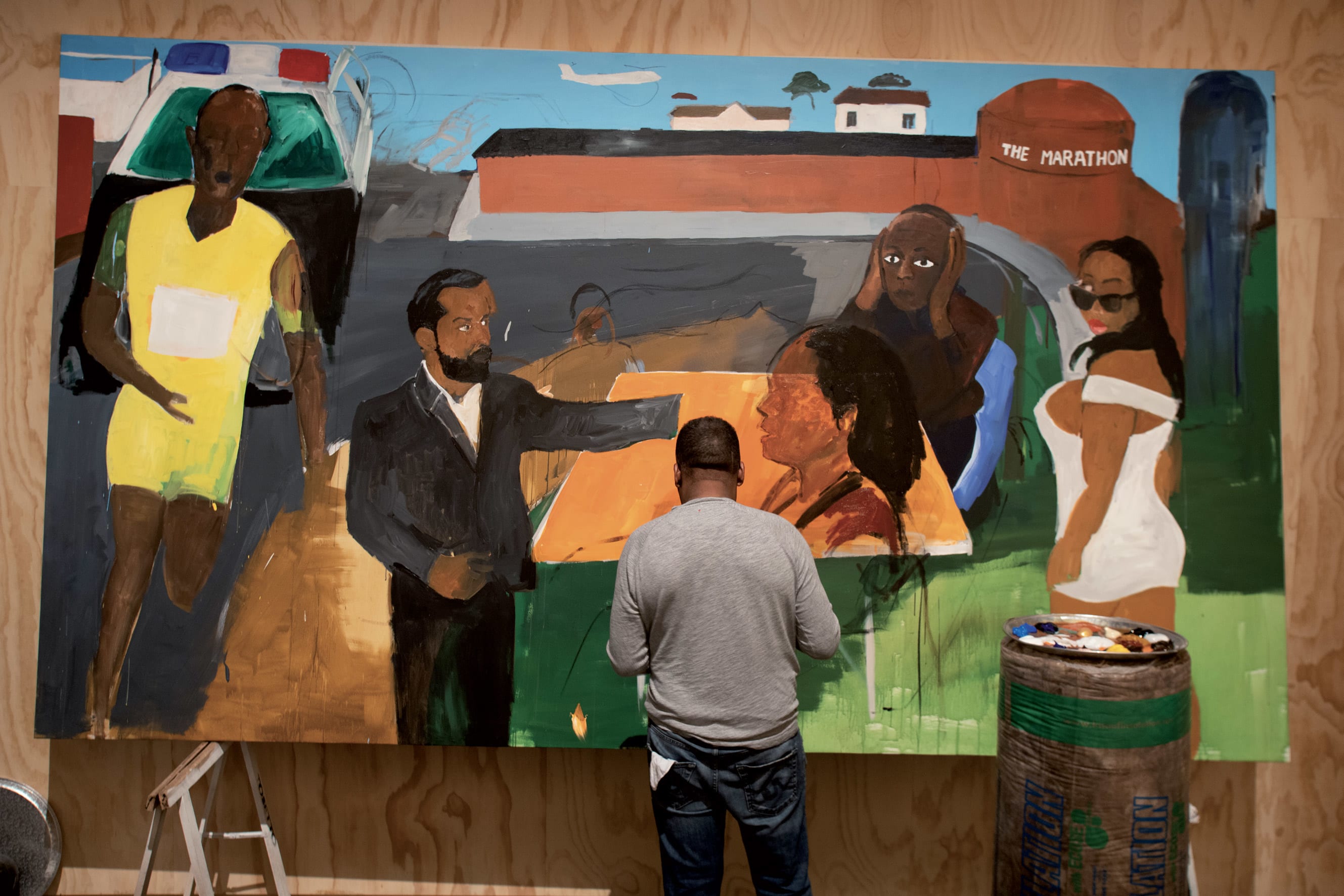 The French house Artcurial opts for an original and lively formula with Parisian sales organized in duplex with Marrakech. The third session of "Paris # Marrakech", on December 30, 2018, confirmed the relevance of this format with $ 2.1 million of works sold, including $ 568,000 for the "African Spirit "capsule and six new world for contemporary African art. Artcurial is also a key player, able to sell at record prices the works of the great Malian photographer Seydou Keïta (nearly $ 73,000 for the large silver print of an Odalisque) or Congolese Bodys Isek Kingelez. The evolution of the rating of this "architect-modelmaker" is remarkable: ten years ago, his colorful sculptures of utopian miniature cardboard buildings, then estimated at less than $ 10,000, were not sold at auction. Nobody wanted it despite an institutional recognition already established (he was part of the exhibition "Magicians of the Earth " at the Center Pompidou in 1989). But on December 30, Artcurial sold its Pacific Art sculpture for $ 81,800. A record obtained when the MoMA turned the spotlight on Kingelez by dedicating his first American retrospective ("Bodys Isek Kingelez, City Dreams", May 26, 2018- 1 st January 2019). The same sculpture remained unsold during the sale of contemporary non-western art from Calmels-Cohen in Paris, June 9, 2005. It was the time to buy it: its price has tripled since ...
Bodys Isek Kingelez, Pacific Art, 1989, cardboard, wood, paper, collage and plastic © Artcurial
First millionaire hammer blow
On the London side, Bonhams and Sotheby's lead the dance. When Bonhams specialists evoke an " explosion of interest in modern and contemporary African art ," they speak of 'experience, Bonhams being the first big sales house regularly involved in this market. Between 2009 (year of launch of its African art sales) and 2014, Bonhams organized a single sale per year. It went into high gear in 2015 with three sales, to finally find its rhythm cruise with two annual sessions. This pioneering company got the first millionaire hammer blow of a modern and contemporary African art sale. A hammer blow last year for "the father of Nigerian modernism," Ben Enwonwu (1921-1994), acclaimed by critics during his lifetime and designated as the most important artist on the African continent in 1949 by the magazine Time. The artist remained underweight for many years - his paintings sold for a few hundred dollars twenty years ago - until Bonhams got his first six-digit hammer blow in 2013, followed by the Dynamic ArtHouse Contemporary Company in Lagos (Nigeria). Ben Enwonwu's millionaire record in 2018 rewards his best known work, the portrait of Yoruba princess Ife Adetutu Ademiluyi, known as "Tutu" (1974). A strong symbol for the market, Ben Enwonwu beating El Anatsui's auction record, one of the most sought-after artists by international buyers. Bonhams Company Goes to the Top This Year, Significant Sales "Modern & Contemporary African Art "At New York. Six works surpassed $ 100,000 during the New York vacation of May 2, 2019: Ben Enwonwu and Irma Stern, Demas Nwoko, Alexander Skunder Boghossian, Papa Ibra Tall and Nelson Mandela. On the sidelines of the fifth New York edition of the fair 1-54, the welcome is now favorable for thematic sales in the stronghold of the high-end art market.
Bonhams is strongly challenged by Sotheby's, which turned a corner just two years ago by opening up its specialized department of modern and contemporary African art in London. Objective: to take a position on this growing market with regular sales. Since the first session of May 16, 2017 (79% of lots sold and $ 3.6 million of result), the company has recorded more than 60 new records for African artists. A success, then. Its last sale (April) shows 3 million results, almost half of which is based on El Anatsui's Z ebra Crossing 2 , the second African artist awarded a Golden Lion at the Venice Biennale, after Malick Sidibé in 2002.
El Anatsui, Zebra Crossing 2, 2007, aluminum caps and copper wire, 226 x 325 cm © Sotheby's
Prices increase, depending on the visibility
A significant number of new records have already been recorded since the beginning of the year at Bonhams, Sotheby's or Piasa. The list would be long if we tried to make it exhaustive, but some are worth mentioning, like that of the Senegalese artist Omar Ba ($ 31,000 last April, Sotheby's), whose works have been introduced at auction only very recently. Thanks to the support of the Templon gallery (Paris), he has been represented at major international exhibitions for several years. It is closely followed by international collectors and now expected in theaters. More accustomed to the sanction of the auction, Chéri Chérin multiplies theOne of his paintings estimated at less than $ 10,000 last November snapped up for more than $ 30,000 at Piasa. Another left for $ 36,000 in March while Bonhams estimated it at best at $ 5,000. A readjustment of rating is ongoing for this artist long remained in the shadow of Moke and Chéri Samba, one of the most requested artists and most exposed (South Korea!). The evolution of the market Chéri Samba sets the tone, the artist having been auctioned about thirty years ago. A sufficient amount of time to observe successful resales: purchased for $ 14,500 at the 1999 Pigozzi sale, Une Vie non missed was $ 68,000 in May 2017 (Sotheby's London). +369% increase in less than twenty years.
The increasingly positive sanction of the market vis-à-vis the African creation is part of the general effort to overcome the under-representation of these artists in major events of contemporary art. The proliferation of leading exhibitions in recent years bears witness, as far as the presence - for the first time - Ghana flag on the 58 thBiennale of Venice. Ghana's proposal is all the richer because it connects market stars (El Anatsui, Ibrahim Mahama, Lynette Yiadom-Boakye) with Felicia Abban and Selasi Awusi Sosu, unknown to the auction battalion. The news opens the doors of discovery for some and confirming the aura of others, it is a vector of acceleration of undeniable odds. Zanele Muholi, Henry Taylor and Njideka Akunyili Crosby also shine in Venice, while collectors are waiting for the opportunity to bid on the works.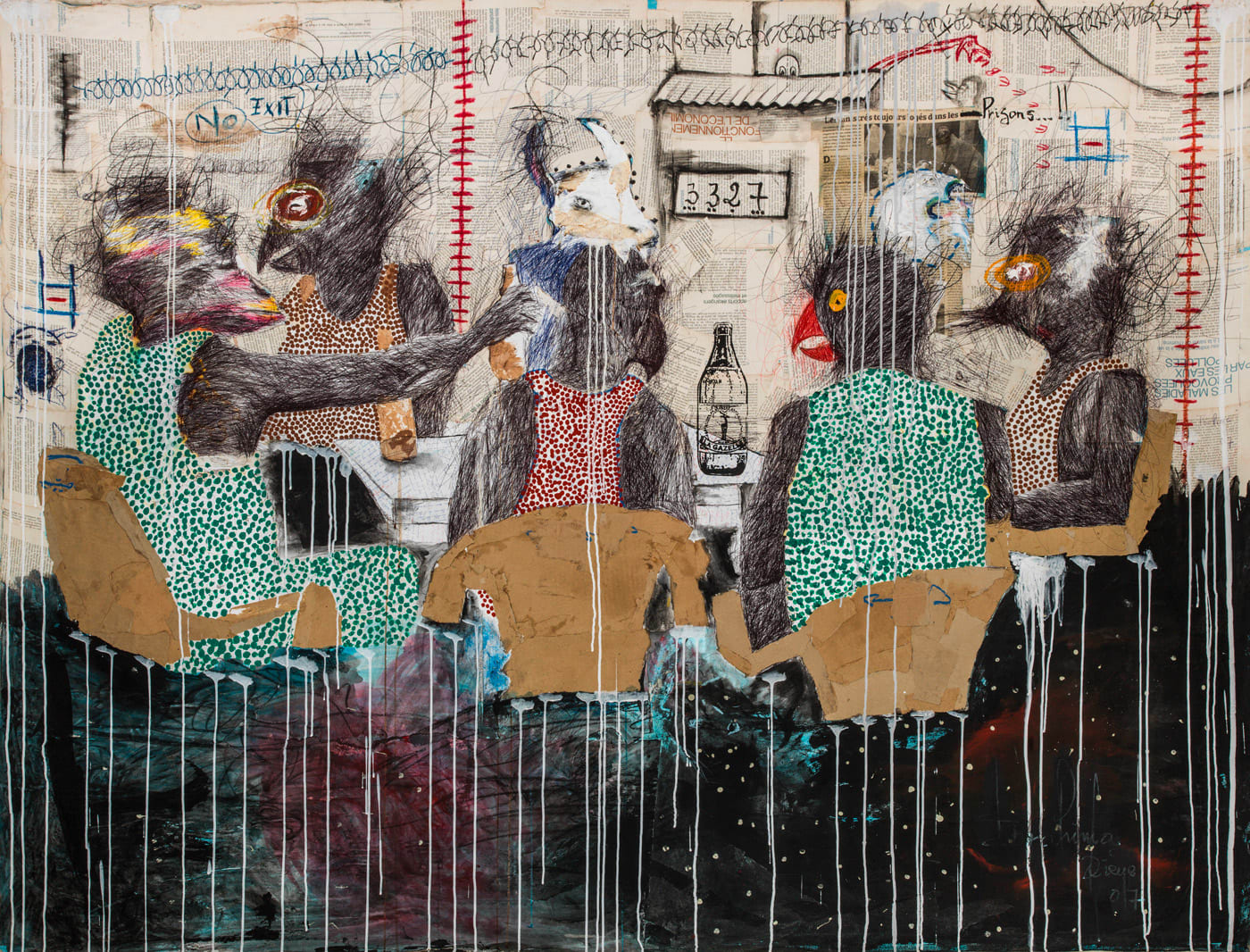 Serigne Ibrahima Dièye (born in 1988, Senegal) Bic pen, collages, gomettes and acrylic on canvas © Piasa
What is rare is expensive
Their works are dripping in the big sales of contemporary art in London and New York. This scarcity fuels desire ... like prices. Njideka Akunyili Crosby is one of the most sought-after artists in an African-American diaspora whose prices are literally exploding. Unknown on the auction market before 2016, Crosby is the rising star of a generation of artists exploring postcolonial identity. Her latest works have all gone into the million, including a record $ 3 million at a Christie's New York Night Sale in 2017. Everything went very fast for this young artist of Nigerian descent (she was born in 1983): arrived in New York at age 16, revealed in 2016 by the Canson Drawing Center at 33, she is now supported by galleries as important as Victoria Miro and David Zwirner. It is especially requested everywhere (Whitney Museum of American Art, Hammer Museum of Los Angeles, Museum of Art of Baltimore.
The rise of contemporary African-American and African-British artists is also driven by the resounding results of Barkley L. Hendricks, Kerry James Marschall, Toyin Ojih Odutola and Lynette Yiadom Boaqué. This market is in full swing at all levels: repositioning of influential galleries, multiplication of purchases and orders from stars and politicians, acceleration of acquisitions and donations from museums. Some artists are so requested that you have to register on a waiting list to buy a work ... A diaspora now cherished by the market.
In partnership with ARTPRICE.COM
To read the original article please navigate to the DIPTYK website here
July 25, 2019