Business and Arts South Africa - BIZART_ZA - Issue_01 - Winter/Spring 2019
FOUND OBJECTS: The Figurative Works of Vivien Kohler
I am fascinated both by the ability of the human spirit to transcend 'the conceptual decay', and the unique liminality of the post-apartheid South African city. My works illuminate the contrasts of lived experiences by showing people mentally cocooned from, yet physically enveloped by, life's detritus. I incorporate, cast and paint discarded, packaging material as a signifier of transience, migration and displacement of people on the 'periphery'.
— Vivien Kohler
Experimental mixed media painter, Vivien Kohler, makes art that is infused with South African complexity. Socio-political ripples and reflections are inherent in his work but rise from the pieces rather than being the point of them. At the simplest level Kohler takes found objects and transforms them into something new. His work ranges from figurative snapshots of urban South Africa through to the abstract and metaphorical. His mid-career work features sleeping human forms surrounded by their stuff. The forms look like the cardboard Kohler has found in the throwaway corners of the city but they are actually realistically painted images of those finds. As such they offer neatly re-contextualised snapshots of the shrouded figures most South African encounter every day in their peripheral social vision.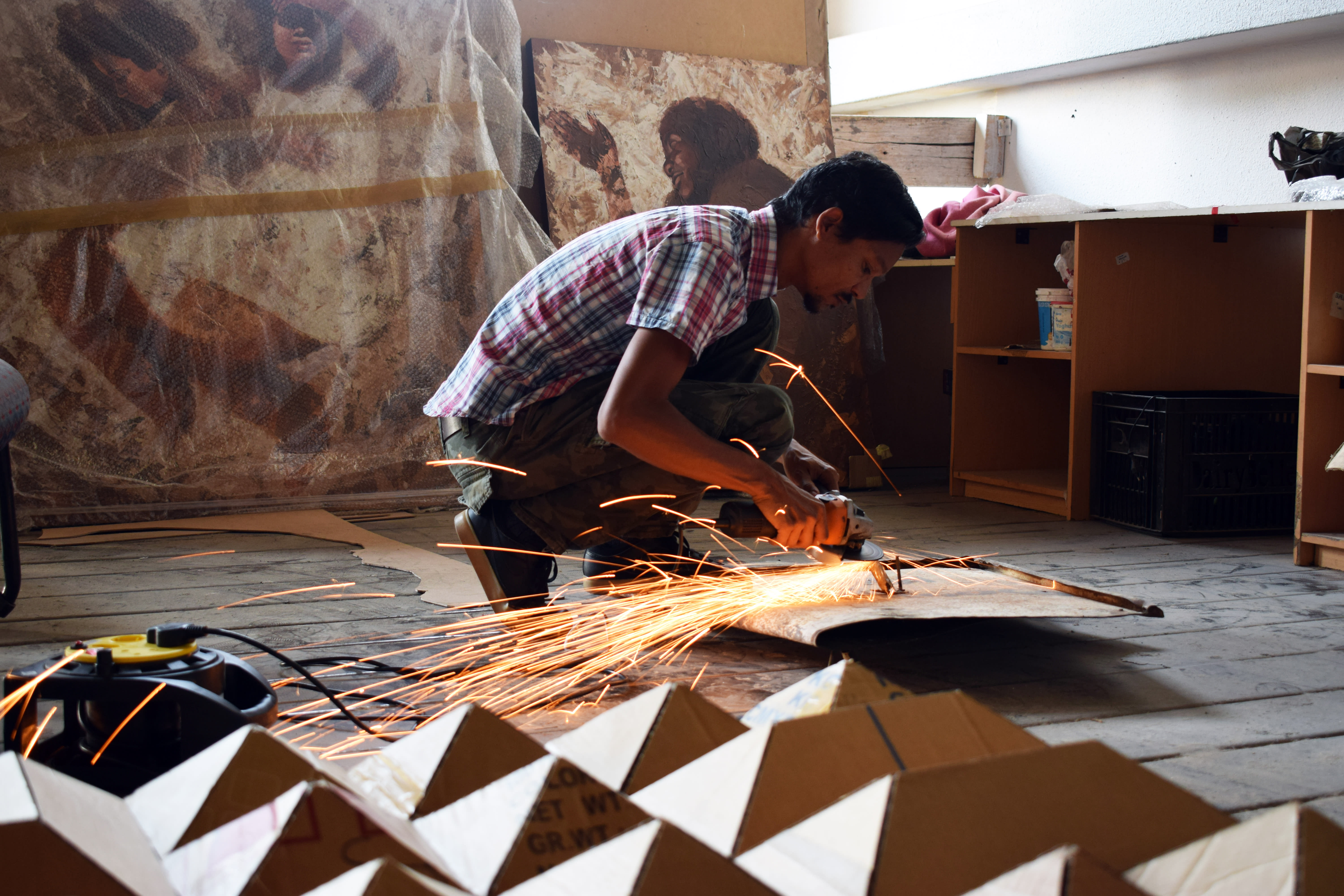 Kohler was born in Cape Town in 1976, and lives and works in Johannesburg, South Africa. He received his National Diploma in Fine Art from the Ruth Prowse School of Art and Design, Cape Town, 2000. In 2017 Kohler received the Thami Mnyele Sculpture Merit Award, in 2013 won the Lovell Gallery Artist Competition, and in 2012 won the It Web/Brainstorm Competition with an entry commissioned by Vodacom. His work is housed in public and private collections including the Nandos, Hollard, SAB and Fusion UK collections. Kohler has produced five solo shows to date: At the Still Point of the Turning World (Sulger-Buel Lovell Gallery, London, 2018), Clay Opera (Sulger-Buel Lovell Gallery, London, 2017), Residuum (Ilse Schermers Art Gallery, Franschhoek, 2016), De(re)tritus (Lovell Gallery, Cape Town, 2014), and Given to Fly (Association of Visual Arts, Cape Town, 2012). Selected group exhibitions include Nano 2.0 (Barnard, Cape Town, 2018), Contemporary African Pop (a series of pop-up exhibitions, Johannesburg, 2018), Is There Still Life? (Old Town House, Cape Town, 2007), Sounds and the City (Hazard, Johannesburg, 2017), Prints on Paper (Klein Karoo Nationale Kunstefees, Outdshoorn, and Wits Art Museum, Johannesburg, 2017), Turbine Art Fair (Johannesburg, 2017), 35 Years: Trailblazers (Lizamore & Associates, Johannesburg, 2017), Between Light and Shadow: Rights of Passage (Sulger-Buel Lovell, Cape Town and London, 2016), Suddenly a Dissident (Guns and Rain/Point of Order, Johannesburg, 2016), I OBJEKT (Art It Is, Johannesburg, 2016), Reverie (AGOG, Johannesburg, 2016), Nugget Square (SOMA, Johannesburg, 2016), Turbine Art Fair (Johannesburg, 2015), Black History Month (Lambeth Academy, London, 2015), Hogan Lovell's Africa Celebration (London, 2015), and Of(f) Africa (Sulger-Buel Lovell Gallery, London, 2015).
To read this article in the BIZART_ZA magazine, please navigate to the Business and Arts South Africa website here
July 1, 2019